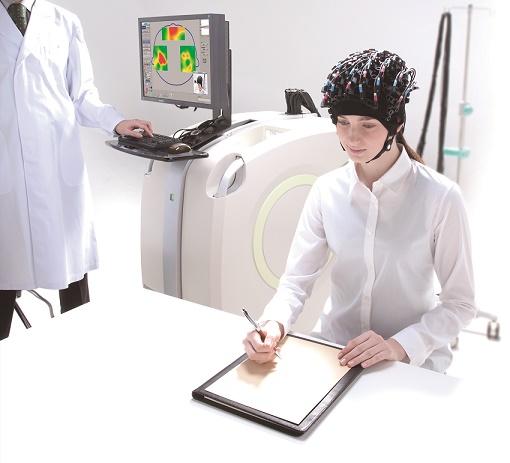 LABNIRS

Toward Next-Generation Optical Brain-Function Imaging

Product No:

NS-1005

Manufacturer:

Shimadzu

NIRS
---
Description
LABNIRS fNIRS system is the Next-Generation optical brain-function imaging system made by Shimadzu Corporation Japan. The SHIMADZU LABNIRS is freely configurable and uses multichannel laser technology to be used on any part of the head and in combination with EEG (made by BioSemi BV). The SHIMADZU LABNIRS fNIRS System combines true laser (photo-multiplier technology) illumination and innovative active detection technology for all application for research in brain imaging solutions. This opens a wide field of innovative research purposes where accuracy of measurement, numerous paradigm creation and power of light transmitters is sought for. Some applications for the SHIMADZU LABNIRS fNIRS System (there is no medical certification on the device for medical diagnosis though) include bedside monitoring, research in sports medicine, intensive care, neonatal imaging, rehabilitation, freely moving subjects, interacting cognitive studies, driver/pilot vigilance, brain computer interface and neuro-radiological applications etc.
System Features
High Performance: high-speed sampling, multichannel and high-density recording, sensitivity from the combination of 3 wavelengths and photomultiplier tube
Easy Operation: intuitive user interface, simple clicks to measure and analyse data
Outstanding Scalability: comprehensive measurement options, increase the number of channels according to the aim of the experiment
Technical Specifications
Measuring Method:

3-wavelength absorbance calculation

Measuring Item:

Amounts of relative change from initial value of oxygenated hemoglobin (oxyHb), deoxygenated hemoglobin (deoxyHb), and total hemoglobin (totalHb)

Light source:

3-wavelength near-infrared semiconductor laser
Class 1 [IEC60825-1 (2007)]
l1 780±5 mm
l2 805±5 mm
l3 830±5 mm

Number of Light Sources:

4 to 40 sets

Detector:

Multialkali photomultiplier tube

Number of Detectors:

4 to 40 pcs

Fiber:

Multicomponent glass bundle fiber

Number of Transmitter/receiver Fiber Sets:

4 to 40 sets

External I/O
(Option):

Digital input terminal (BNC) 12, TTL level (non-insulated)
Digital output terminal (BNC) 12
Analog input terminal (BNC) 8, 0-10 V

Computer:

CPU: Dual-Core, 2 GHz equivalent or higher
OS: Windows 7 Professional

LCD Display:

22-inch, wide aspect model, 1920 x 1200 pixels

Operating Temperature:

15-30 °C
Less than 5 °C/h during measurement

Operating Humidity:

45 to 85 %RH (with no condensation)

Storing Temperature:

-10 to +60 °C

Pollution Degree:

2

Electrical Installation Category:

Category II

Power Supply:

100/110/120/200/220/230/240 V AC 50,60 Hz
1100 VA

Interrupting Capacity:

1000 A

External Dimensions
(W x H x D):

610 x 1090 x 750 (not including protrusions or LCD)

Weight:

230kg
Please note: Important! This product is for research applications only. Not a medical device as defined in EU directive 93/42/EEC. Not designed or intended to be used for diagnosis or treatment of disease.
---
Brochure
LABNIRS - Brochure