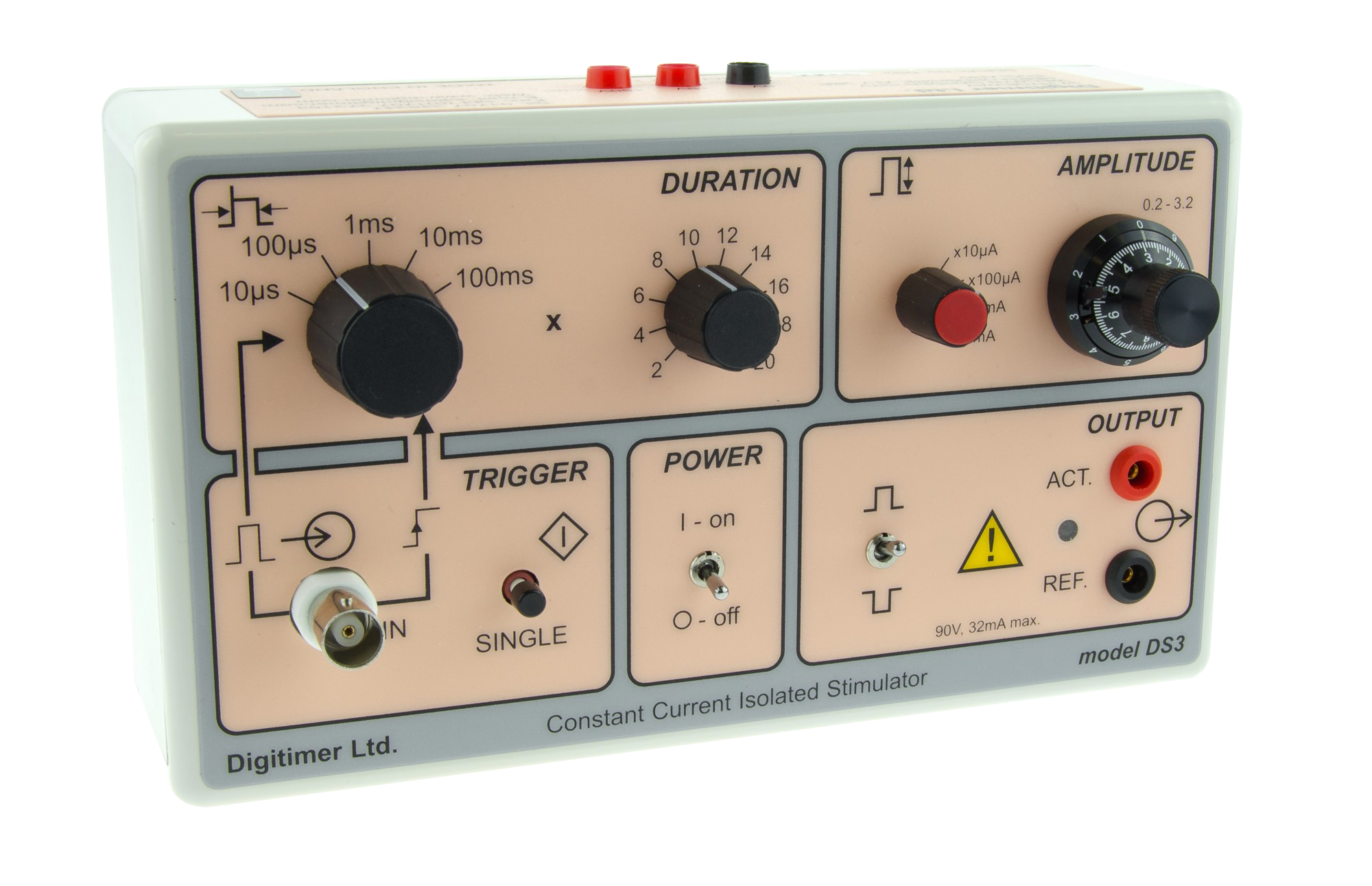 DS3

Isolated Constant Current Stimulator

Product No:

NS-1012

Manufacturer:

Digitimer
---
Description
The DS3 provides a precise Constant Current stimulus (up to 32mA) controllable in Pulse Duration and Amplitude and as with the DS2A this output comes from self-contained batteries. The DS3 also features a "clamp" or discharge circuit which discharges the output between stimuli, preventing a charge build up on the preparation. In other constant current devices this charge build up can lead to a loss of stimulus. The DS3 can be triggered by an external device such as our new DG2A Train/Delay Generator.
System Features
Four current ranges allow precise control of output between 2μA and 32mA.
Output discharge (Clamp) circuit prevents capacitance build-up during stimulus trains, which is important to prevent stimulus loss.
90V compliance provided.
Switchable polarity, variable output and duration ranges (20μs to 2s).
External pulse duration control through the BNC trigger input.
A single-shot button, which operates irrespective of trigger inputs.

Power provided by standard batteries. Note that current is only drawn during pulse delivery.
Technical Specifications
| | |
| --- | --- |
| Output: | Between 2μA and 32mA |
| Control: | Four selections 10μA, 100μA, 1mA, 10mA |
| Pulse Duration Range: | 20μs to 2s |
| Output terminals: | A pair of 2mm touch-proof sockets on the front panel spaced at 0.75" |
| Single Shot: | A single-shot push button is provided |
| Trigger: | A positive pulse of between 3V and 20V is required to trigger the stimulator. The trigger input current varies from 6mA to 62mA over the above voltage range. Trigger pulse duration should not normally be less than 4μs. |
| Dimensions: | Panel size: 190mm x 110mm. Depth: 80mm over knobs |
| Weight: | 800g complete with batteries |
Please note: Important! This product is for research applications only. Not a medical device as defined in EU directive 93/42/EEC. Not designed or intended to be used for diagnosis or treatment of disease.
---
Brochure
DS3 - Brochure