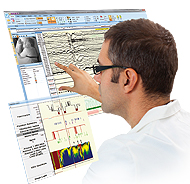 Profusion Sleep 4

World Class Sleep Analysis

Product No:

NS-1032

Manufacturer:

Compumedics

EEG

ECG

EOG

PSG

PLETH
---
Description
The most important aspect of any digital sleep system may be the scoring software. Compumedics, in conjunction with sleep professionals worldwide, has developed ProFusion PSG, a high-powered, comprehensive sleep analysis program. ProFusion PSG is designed to give you everything you need: Clarity, Power, Speed, Quality Assurance, and Great Reports. This is the next generation Microsoft Windows based software product from a world leader in polysomnographic diagnostics – Compumedics. This software will optimize your laboratory efficiency by improving scoring speed and providing clear, accurate results in exactly the report formats you need. And, because it is fully compatible with the complete Compumedics family of recorders/amplifiers, your sleep program can easily expand into new testing modalities, etc. without having to learn new software or change your report formats.
System Features
Fast and accurate data analysis.
Manual scoring and editing are enhanced with hotkeys, waveform measuring tools, digital displays and other features.
A comprehensive overview of the entire night's processed information in a compressed format.
Fully configurable waveform displays.
Trend data for the entire study in one pane.
Switch to any of your custom screen layouts with the click of a mouse.
Use Profusion PSG to evaluate data, even as it is being recorded.
Technical Specifications
| | |
| --- | --- |
| Impedance Check: | Yes |
| Online Filtering: | Yes |
| Montage Support: | Yes |
| Sychronized Video: | Yes |
| Data format: | Profusion EEG |
| Data export: | ASCII, EDF |