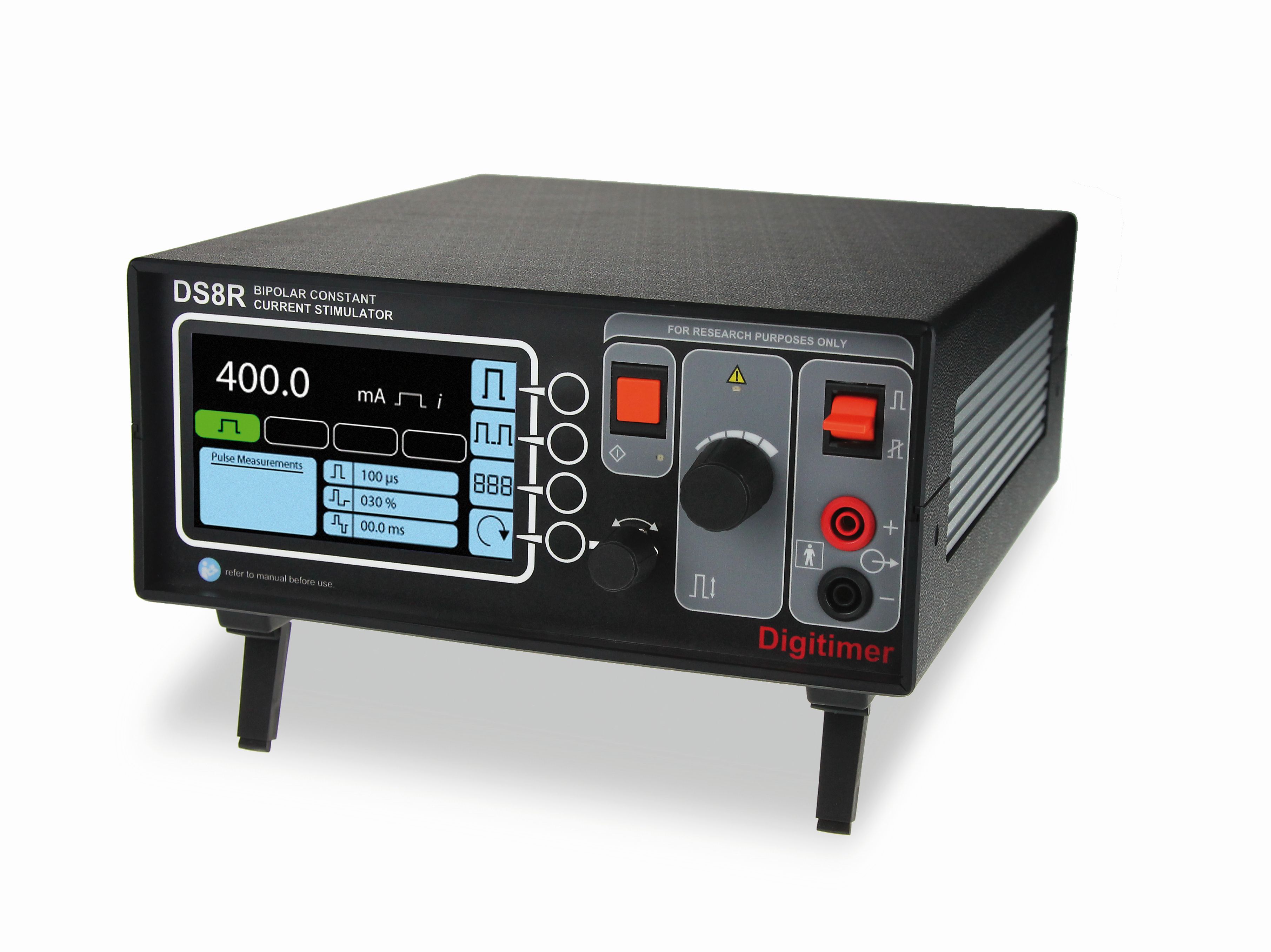 DS8R

Biphasic Constant Current Stimulator

Product No:

NS-1063

Manufacturer:

Digitimer
---
Description
The DS8R is a constant current, multi-mode, discrete pulse stimulator for human research studies involving nerve and muscle stimulation via surface electrodes. It features a high compliance voltage and can be triggered by a TTL compatible input, contact closure foot/hand switch or front panel "single-shot" button. The DS8R can deliver pulses of up to 2ms duration and 0-1000mA (at up to 400V), however the actual current achieved will be restricted by a pulse energy limit of 300mJ per pulse and the skin/electrode resistance. Most importantly, the new DS8R incorporates features that allow external "on the fly" control of stimulus pulse parameters.
Biphasic Charge-balanced Output
The DS8R has two pulse modes, enabling stimulation using monophasic or biphasic rectangular pulses. Additionally, in biphasic mode the DS8R allows for both symmetric or asymmetric charge-balanced stimuli through implementation of an adjustable stimulus/recovery phase amplitude ratio. Biphasic charge-balanced stimulation offers certain advantages over monophasic stimulation, as it prevents the potentially harmful electrochemical changes which occur under stimulation sites and is reported to be more comfortable for the subject during long periods of stimulation. The recovery phase ratio can be adjusted from 10% to 100% in 1% increments. As illustrated below, at 100% the two phases are identical in terms of duration and amplitude, but as the ratio is reduced from 100% the amplitude of the recovery phase decreases, while its duration is extended to preserve charge balancing.
External Control Capabilities – Software (via USB) and Analogue Voltage Input
Researchers often want to adjust stimulus settings (current and duration) during a stimulation protocol and with the arrival of the DS8R, such control becomes a reality. While the DS8R can operate as a standalone isolated stimulator with full control via the front panel, settings can also be modified using Windows PC control software (supplied) via a USB interface. This software provides a Virtual Front Panel for the stimulator, but more importantly incorporates an API allowing the operator to implement control from custom or commercially available software packages.
Pulse current amplitude can be more simply controlled via an analogue voltage input (BNC) on the rear of the DS8R. Using this method of control, the DS8 monitors the voltage applied at this input (0-10V) and adjusts the stimulus current (0-1000mA) proportionally with this voltage as each trigger input is detected. Note that the control voltage signal does not define the shape of the output pulse, it is merely used as a proportional representation of the output stimulus current.
DS8 for Patient Use & Diagnostics
The DS8R is suitable for human research applications, but because the maximum pulse energy of 300mJ exceeds the 50mJ limit imposed by the international standard for diagnostic stimulation devices, we are not seeking medical device certification for the DS8R. If you have a requirement for a medically certified equivalent of the DS8R, please contact us to express your interest.
Technical Specifications
| | |
| --- | --- |
| Current range: | 0-1000mA from up to 400V (0.1mA steps) |
| Pulse duration range: | 50-2000µs |
| Biphasic Output: | Charge-balanced symmetric or asymmetric |
| Adjustable inter phase interval: | 1-990µs |
| External control: | Via PC software/USB connection (includes API) |
| Stimulus current control: | Analogue |
| Output connection accessories: | Available (including plugs, cables and electrodes) |
Please note: Important! This product is for research applications only. Not a medical device as defined in EU directive 93/42/EEC. Not designed or intended to be used for diagnosis or treatment of disease.