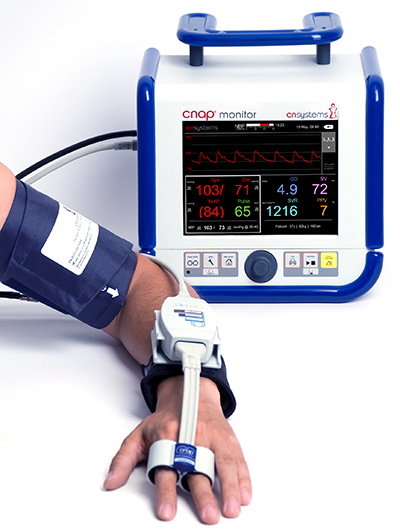 CNAP Monitor 500 "HD"​

Continuous Noninvasive Blood Pressure & Hemodynamics

Product No:

NS-1066

Manufacturer:

CNSystems

PLETH
---
Description
The new CNAP Monitor 500 'HD' is a non-invasive and beat-to-beat system which records blood pressure, hemodynamic (CO, SV etc.) and fluid status (PPV/SVV) with the same accuracy as invasive systems. The CNAP Monitor solution is trending rapidly thanks to its reliability, cost-effectiveness and fast set-up requiring minimal training effort. The blood pressure curve is available immediately after application. The new CNAP Monitor 500 'HD' has also expanded limits of application, supporting the implementation of Enhanced Surgical Recovery (ESR) with Goal Directed Therapy (GDT) in low and intermediate risk surgeries (also in parallel to the arterial line without the need for an arterial catheter) in ER and bariatric patients. In research applications, CNAP HD enhances standard hemodynamic assessment with continuous blood pressure and full hemodynamic from an easy-to-use finger sensor.
Full Hemodynamic Picture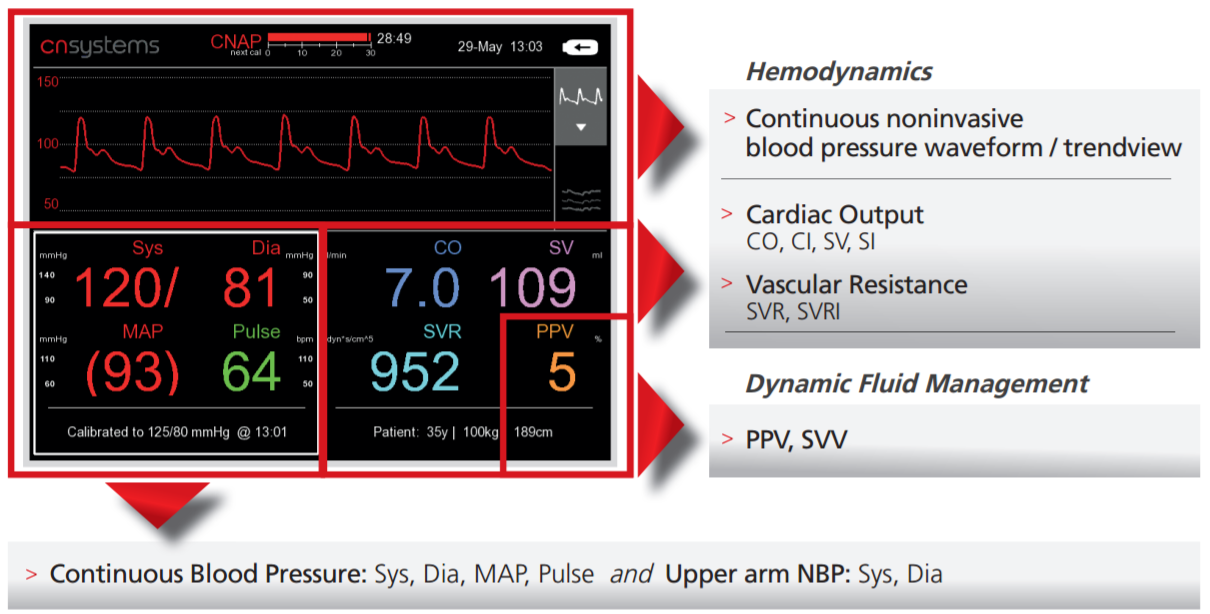 System Features
Real-time systolic, diastolic, mean blood pressure and pulse rate
High-fidelity blood pressure waveform
CO (Cardiac Output with CNAP® HD and Pulse Contour analysis), SV (Stroke Volume), PPV/SVV (Pulse Pressure Variation, Stroke Volume Variation)* and SVR (Systemic Vascular Resistance) allowing for hemodynamic monitoring and fluid optimization*
Easy-to-use double finger sensor for a quick and easy setup for every day clinical use
Automatic sensor sizing
Different calibration modes to upper arm blood pressure (NBP, oscillometric)
Easy integration in patient monitoring "BP Wave Out"
Adjustable alarming system
8.4" colour anti-reflective screen
Integrated thermal printer
Rechargeable internal battery for up to two hours of CNAP® operation
Up to 24 hours measurement duration
Additional analog out connector - customizable assignment
Technical Specifications
Continuous Noninvasive Arterial Pressure
Sys
40 - 250mmHg
Dia
30 - 210mmHg
Mean
35 - 230mmHg
Pulse rate
30 - 200bpm
Degree of protection
BF (defibrillation proof)
Automatic scaling to brachial pressure (NBP)
Oscillometric Blood Pressure Measuring Rage
Dia
Adult 20 - 200 mmHg, Pediatric 20 - 160 mmHg
Sys
Adult 40 - 260 mmHg, Pediatric 40 - 230 mmHg
Degree of Protection
BF (defibrillation proof)
CNAP Hemodynamics Measuring Range
CO
0,0 - 99,9 l/min
CI
0,0 - 99,9 l/min/m2
SV
0 - 500 ml
SVI
0 - 500 ml/m2
SVR
0 - 9999 dyne*s/cm5
SVRI
0 - 9999 dyne*s/cm5 /m2
Fluid responsiveness: CNAP PPV and SVV
Measuring range
PPV 0 - 40%
SVV 0 - 40%
Electrical
Nominal voltage
100 - 240 VAC
Supply frequency
~50/60 Hz
Battery
sealed lead-gel, operating time: 2 hours (fully charged battery)
CNAP Hardware
Weight
7,5 kg (16,6 lbs) including accessories and cables
Height
280 x 270 x 250 mm (11 x 10,6 x 9,8 inch)
Built-In Monitor
Type
TFT-LCD, 800 x 600 pixel
Size
8,4 inch diagonally
User Interface
Controls
Click-wheel control, fast access keys
Indicators
Visual and audible alarm indication, battery status, printer status, power LED
Trend Display
Customized configuration: numeric, graphic, alarm history
Adjustable Alarming System
Alarms
physiological: med priority, technical: low priority
Connectivity
BP Wave Out
Easy integration in all standard patient monitoring systems (2 - 10 VDC supply voltage)
AUX Analog Out
Analog output of calibrated continuous blood pressure waveform (-5V to 5V)
USB Port
Version
USB 1.1 (bandwidth 12 MBits/s)
Printer
Type
Integrated thermal printer, 58mm
Compliance and Approvals
Safety class II (IEC 60601)
IEC 60601-1; IEC 60601-1-6; EN 1060-4 (NBP)
Class II b (93/42/EEC)
IEC 60601-1-2; IEC 60601-1-8; ISO 81060-2 (NBP)
Patient applied part type BF
(defibrillation proof); IEC 80601-2-30
Please note: Important! This product is for research applications only. Not a medical device as defined in EU directive 93/42/EEC. Not designed or intended to be used for diagnosis or treatment of disease.
---
Brochure
CNAP Monitor 500 "HD"​ - Brochure