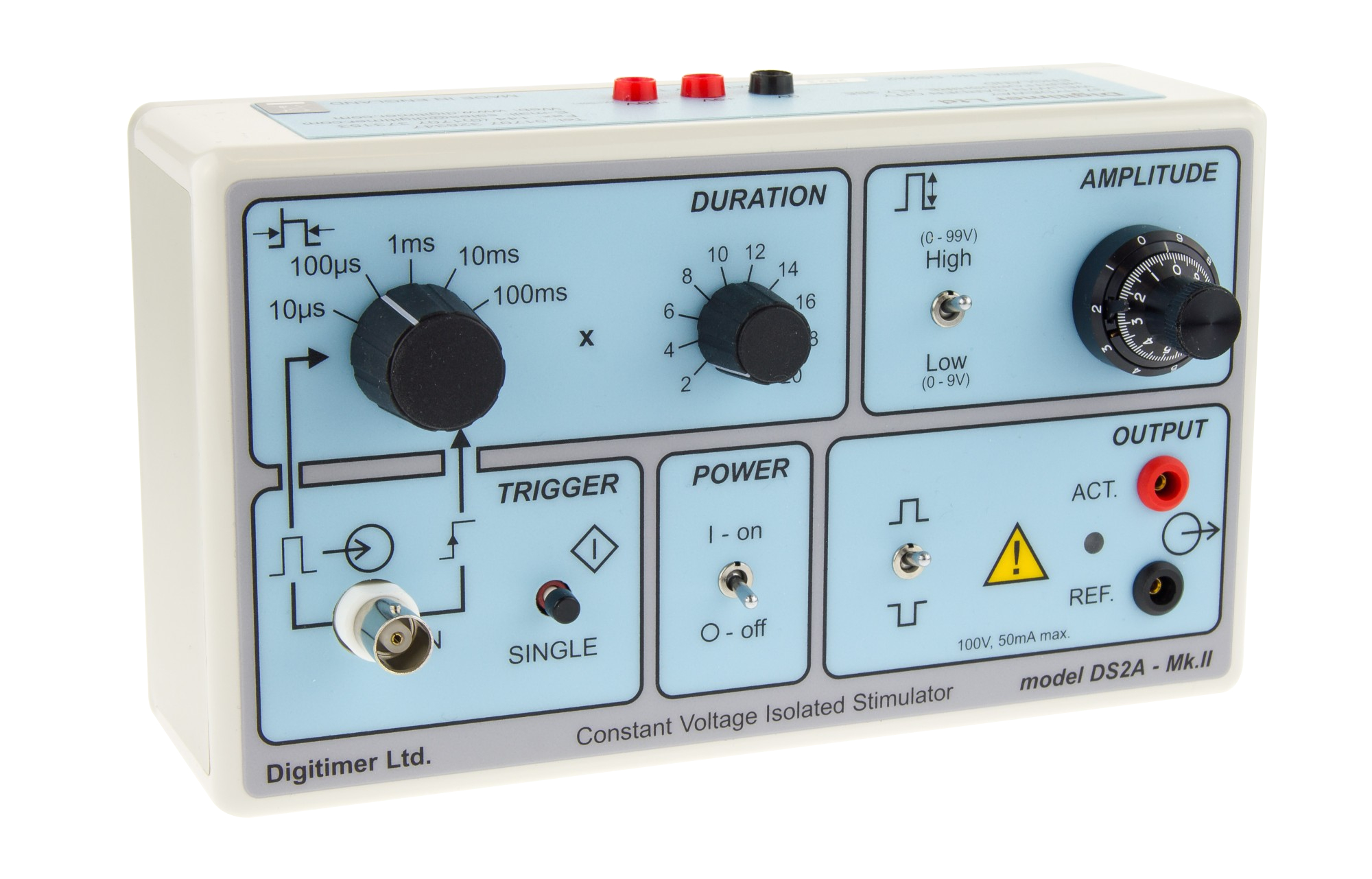 DS2A

Constant Voltage Stimulator/Stimulus Isolator

Product No:

NS-1041

Manufacturer:

Digitimer
---
Description
The DS2A Mk.II provides a precise Constant Voltage stimulus (up to 100V) controllable in Pulse Duration and Amplitude from self-contained batteries, making it ideally suited to electrophysiological recording in small preparations or cells where low noise is required. The DS2A can be triggered by an external device such as our new DG2A Train/Delay Generator. This stimulator is NOT approved for use on human subjects. The DS2A can be fitted into a 19" rack mounting frame (D121-11) which can hold up to two DS2A's, DS3's DS4's or DG2A's.
System Features
Two voltage ranges allow precise reproducible control of stimulus output
Polarity reversal switch
Battery test sockets
In the case of low impedance preparations, current output is limited t0 50mA by an overload protection circuit
Current is only drawn from batteries when a stimulus is being delivered
Technical Specifications
| | |
| --- | --- |
| Power: | Low noise battery power supply with up to 99V output |
| Pulse duration: | Internal (20µs to 2s) or external TTL "gated" control |
| Voltage ranges: | 0-9V and 0-99V |
| Trigger button: | Single-shot |
Please note: Important! This product is for research applications only. Not a medical device as defined in EU directive 93/42/EEC. Not designed or intended to be used for diagnosis or treatment of disease.
---
Brochure
DS2A - Brochure