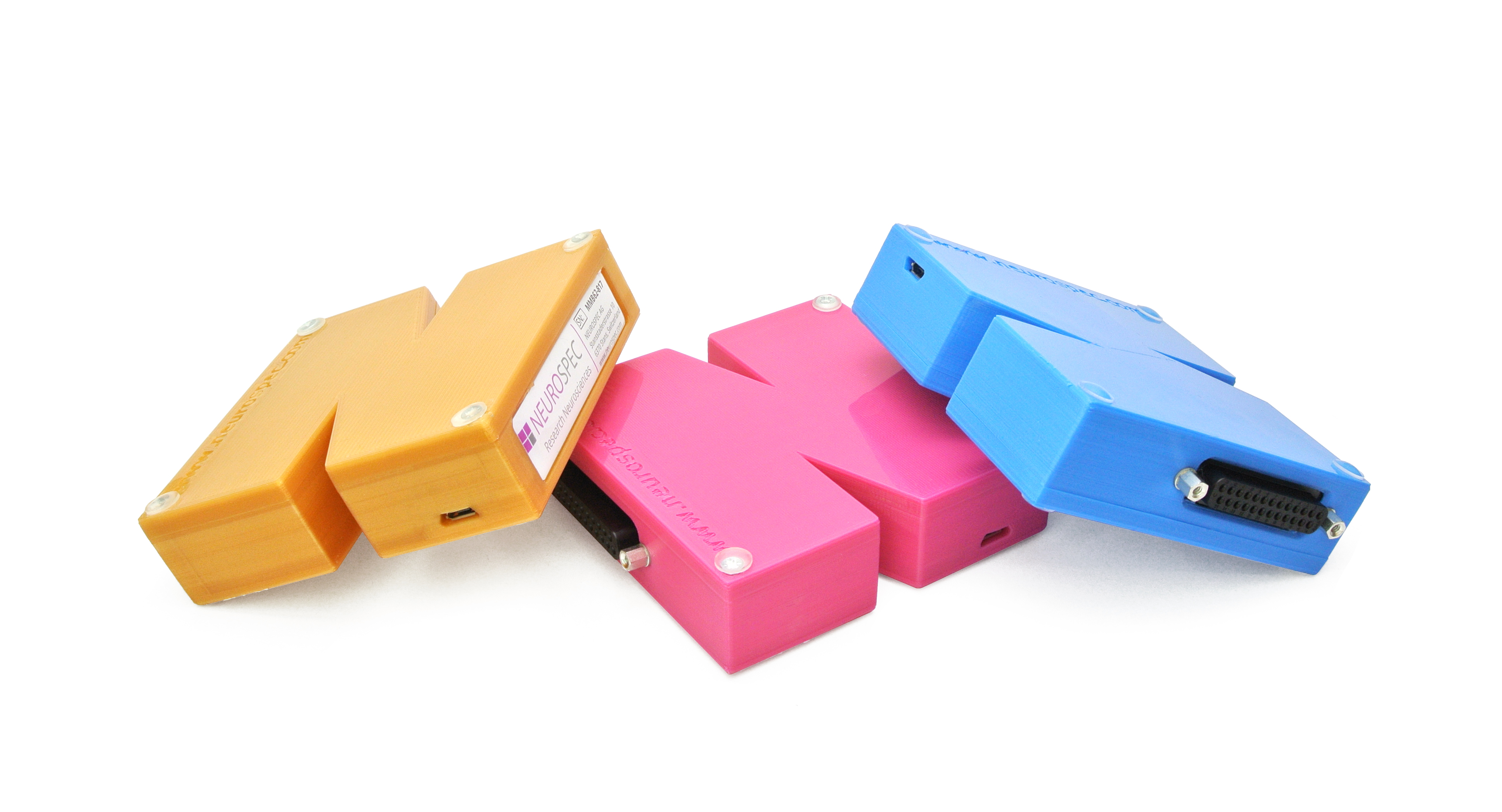 MMB Trigger Interface Box

Highspeed Trigger Interface with Seemless Integration

Product No:

NS-1067

Manufacturer:

NEUROSPEC

EP

ERP
---
Description
NEUROSPEC AG has manufactured a low-cost trigger interface to be used especially for notebook computers that lack a Printer Port / Parallel Port / PCMCIA Express Port. 8 data bits are sent via the MMB Trigger Interface Box (acts as a virtual COM port) to the EEG system with a sub-milisecond delay. For more specifications or an installation manual contact us via the Contact Page.
The MMB Trigger Interface Box comes as a package and includes the MMB Trigger Box (9.5cm x 9.5cm x 2.6cm) itself, a USB connection cable, hardware drivers and an installation manual. Customers confirm, that the MMB Trigger Box works well with: Neurobs Presentation, E-Prime, Inquisit, OpenSesame, PsychoPy and Linux.
Technical Specifications
The MMB Trigger Box USB interface provides an 8bit output port that is plug- and pin-compatible to a standard parallel port. The box contains Arduino and hence uses standard Arduino drivers, which makes it compatible with almost any operating system. The box appears as serial port and trigger codes are sent to this serial port using PTB's IOPort function. The trigger codes appear with a delay of max. 180µs at the device output port (measured with Windows 7). MMB Trigger Box can be programmed according to your needs, i.e. triggers can go to high or low; switch off after 8 miliseconds; or can be switched off manually or automatically.
System Features
Sub-millisecond transfer delay
Runs with major Psychological Experiment and Stimulus Presentation Software
Windows 7/8/8.1/10, Mac OS X / macOS and Linux compatible
Acts as a virtual COM port
Connects via USB to the stimulus/experiment computer and outputs trigger bits via a D-SUB 25 (a.k.a. printer port) - other configurations available upon request
Can be run in two different modes, Pulse Mode or Simple Mode for high flexibility when transfering trigger bits
Runs at 9600 BAUD rate
8 data bits
Compatibility
Presentation®, NeuroBehavioral Systems (NBS)
E-Prime, Psychology Software Tools, Inc.
PsychoPy, Psychology software in Python, Peirce JW
OpenSesame, COGSCI dotNL cognitive science and more
Inquisit, Millisecond
---
Testimonials
It works like a charm with Inquisit and MATLAB, and with Swiss precision, as far as we can judge it.

University of Pennsylvania, 2018
We tried your MMB Trigger Box in a couple of recordings now, and it works like a charm! This little device really makes our lives a lot easier; thank you so much!

Westfälische-Wilhelms Universität, 2016
I am very happy with the way it works. It's very easy to setup on a Windows machine and I can use it just like I would an old-fashioned serial port, so that's great.

University in Oxford, 2016
It works a treat! So, to confirm, it works with OpenSesame and PsychoPy.

Thanks so much! No more parallel ports!

Nottingham Trent University, 2016
We are very pleased with the MMB Trigger Box by NEUROSPEC. We have used it for research in our lab at the University of Zurich and can confirm it's versatility.

University of Zurich, 2018
Please note: Important! This product is for research applications only. Not a medical device as defined in EU directive 93/42/EEC. Not designed or intended to be used for diagnosis or treatment of disease.