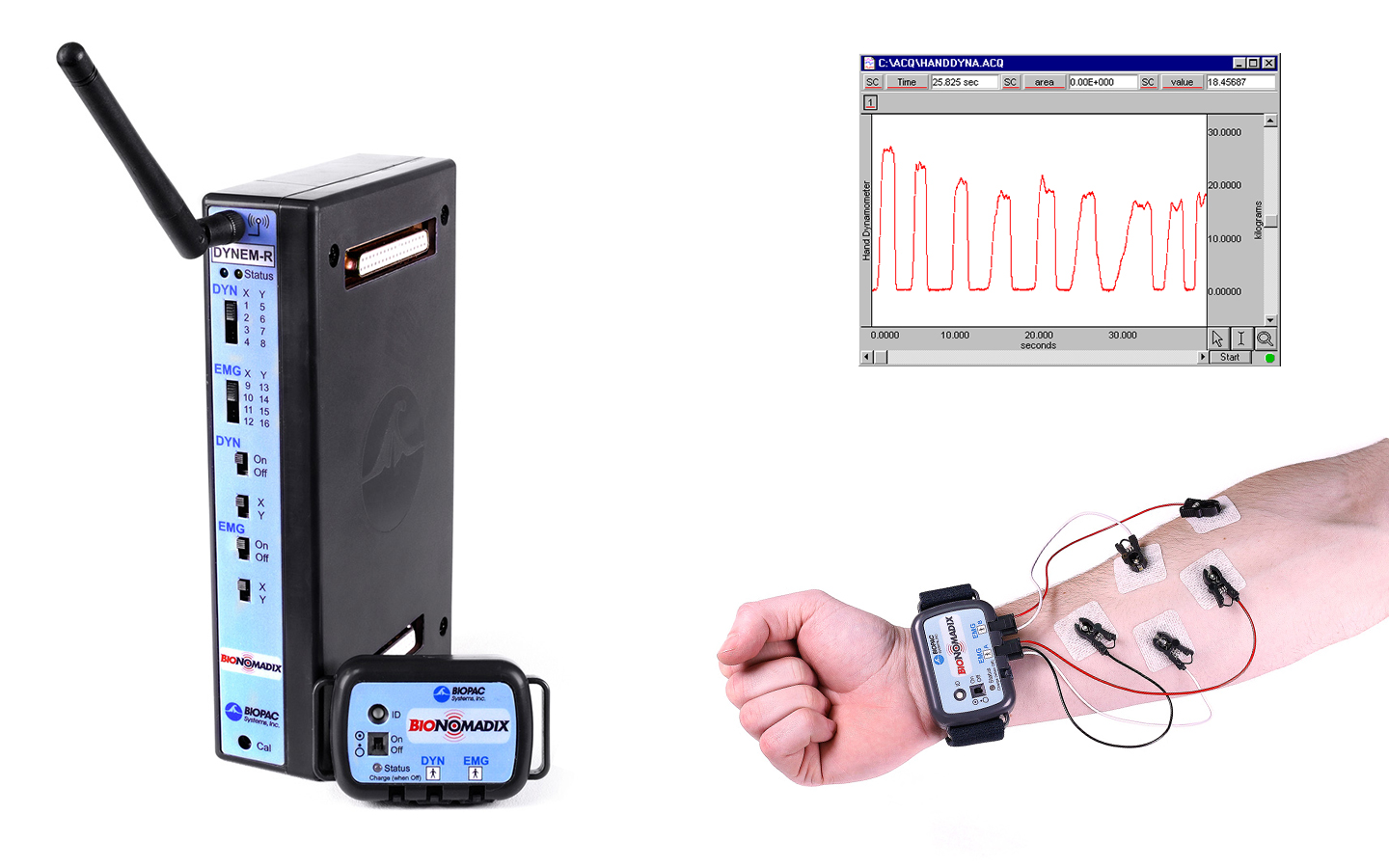 BioNomadix

Wireless and Wearable Physiology

Product No:

NS-1074

Manufacturer:

Biopac

EEG

EMG

ECG

EOG

PSG

Respiratory

Airflow
---
Description
The BioNomadix® system from BIOPAC encompasses a selection of wearable and wireless devices, which deliver the freedom to discover the data you desire, in the environment and at the scale of your choosing, with the quality that you as a scientific research demands, and with an unparalleled ease of use for both researcher and subjects.
BioNomadix Modules
BioNomadix modules interface with the MP160 system from BIOPAC together with the data acquisition and analysis platform AcqKnowledge for a complete, wireless in-lab solution that supports advanced analysis for multiple applications.
BioNomadix provides a wide selection of signals:
Log 24×7 with a Complete Wearable Platform
For more freedom and flexibility, the data recorded from the BioNomadix Transmitters can also stream data to the BioNomadix Logger. The BioNomadix Logger from BIOPAC allows participants to wear BioNomadix devices and move around freely and wherever they want while it records the data that your research demands. Record subjects' data, including activity, using BioNomadix transmitters and track them with GPS while they also record their personal synchronized audio notes and mark events of interest.
Enhance Subject Freedom & Experimental Complexity
BioNomadix is the perfect tool for applications that demand greater degrees of subject freedom and complex experimental design. When used with a BIOPAC MP System, up to 16 channels of BioNomadix data can be recorded for multi-subject or multi-parameter protocols. The system also works with multiple MP160 systems or third-party data acquisition hardware via an isolated power supply module.
BioNomadix accessory items such as transducers, electrode leads, straps, and shirts are available for even better usability. Choose the new BN-BIOSHIRT sensing shirt to record respiration and ECG, or choose the stretch-mesh, pocketed, zippered BN-SHIRT to comfortably hold and easily access multiple devices.
System Features
Wireless, wearable physiology anywhere
Small & unobtrusive
Reduces cables for greater flexibility
Record from multiple subjects without interference
Technical Specifications - Receiver Modules & Transmitters
Operational Range:
10 meters (line-of-sight) typical in standard laboratory setups
Delay:
Fixed latency 15.6 ms and small variable component +/- 0.5 ms RMS
Temp & Humidity:
Operating Temperature: 5-45 °C; Humidity: 95% non-condensing
Size & Weight:
Transmitter (approx.): 6 cm x 4 cm x 2 cm (54 grams)
Receiver (approx.): 4cm x 11 cm x 19cm (380 grams)
Transmitter:
Type: Ultra-low power, 2.4 GHz bi-directional digital RF transmitter
Rate: 2000 Hz (between transmitter and receiver)
Receiver Power:
Use with an MP Research System or with isolated power supply IPS100C for 3rd-party data acquisition system
Battery:
BioNomadix transmitters use an Lithium-Ion battery: full charge takes ~1 hour to provice maximum operating time
Transmitter charger:
A battery charger is included with each module pair
Compliance:
FCC, CE, IC, FCC Part 15 B - FCC ID: receiver: ZWIBNXR1, transmitter: ZWIBNXT1; receiver: 9901A-BNXR1, transmitter: 9901-BNXT1
Technical Specifications - BioNomadix Logger
| | |
| --- | --- |
| Transmitter: | Ultra-low power, 2.4 GHz bi-directional digital RF transmitter |
| Rate: | 2000 Hz, maximum screen: colour, 6 cm diagonal |
| Operational range: | 1 meter (line-of-sight, approx.) |
| Memory: | 8 GB |
| Battery: | 1800 mAh, Lithium-Ion battery |
| Weight: | 121.2 grams |
| Dimensions: | 9.42 cm x 5.76 cm x 2.3 cm |
| Compliance: | FCC, CE, IC, FCC Part 15 B - FCC ID: ZWIBNXT1, IC: 9901A-BNXT1 |
| Charger style: | Integrated USB charger with AC wall adapter |
| Charger operating time: | acquisition 24 hours, standby ~30 days |
| Time to full charge: | ~12 hours |
For more information about the specific modules (bandwidth, specific filters, resolution, etc.), please download the brochure or contact us.
Please note: Important! This product is for research applications only. Not a medical device as defined in EU directive 93/42/EEC. Not designed or intended to be used for diagnosis or treatment of disease.
---
Brochure
BioNomadix - Brochure